Hello peeps!
September is not starting really good as a reading month, because I've just finished my first book of the month :///
And here is my review of it 🙂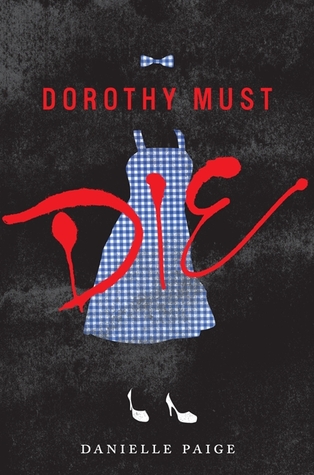 Title: Dorothy Must Die
Author: Danielle Paige
Pages: 452
Publication: April 1st 2014 by HarperCollins
Genre: YA, Fantasy
Source: Bought
First of all, I actually liked this book much more than I expected! I had put this book down several times before I set a goal for myself to just finish it. I think the reason why I dropped it many times was because the first few chapters was a bit boring.
We have Amy Gumm, a teenage girl from our world who has a drunk mom and were bullied by the meanie at school. Amy got swept up by a tornado to Oz (the world from Wizard of Oz). In Oz, things were a bit different than the story she grew up reading and watching, actually quite a lot were different. The first thing was that Dorothy wasn't the hero anymore. In this Oz, Dorothy was an evil princess who was drunk in magic , we had the wicked witches who seemed to be good, and the good witch who worked with Dorothy and was destroying Oz.
"Simple. You're going to kill her." She looked right at me and said, "Dorothy must die."
For me, I haven't watched or read Wizard of Oz, and it was quiet a problem at first because I didn't know a thing about yellow brick roads, winged-monkeys or any other creatures in Oz, and what the original Oz story was like. But I got a whole lot of information about the original Oz throughout the book, so I would recommend this to people who don't know a thing about Wizard of Oz too.
As because I don't know what the real Oz is like, I can't say if this book is original or not, but I think the concept is great, a fiction in fiction of sort.
As for the characters, I liked Amy, and other people well enough just that they were all a bit flat. I love the humor tho.
"I couldn't make up my mind which part I was more curious about: the fact that she was levitating or the fact that she was doing it above a field of dirt, dressed like she was on her way to the prom."
The characters were realistic with how they act in situations but still not descriptive enough. The same applies to the world building. Oz was described to be a magical land, rich with magic and strange creatures, or used to be, but still it was all words, there weren't much examples so I couldn't imagine the world as clearly. However , I love the magic system in the book, and how Amy is not a super woman that is oh so special even though she was still special because she was winded up to Oz by a tornado. lol
Moreover, from what I've seen, Dorothy wasn't even that evil, she was more like just a spoiled girl who threw tantrums all the time and didn't know what she was even doing. Although I did find what the Scarecrow and Tin Woodman did were cruel.
Overall, the best thing in the book is that it introduced me to Oz, and now I really want to pick up The Wizard of Oz book or watch the movie. However, I do like the concept of this book and I enjoyed it a good amount but obviously it's not my favourite. I will definitely continue this series tho, even though I didn't like the ending of book one that much too.
---