Hello my friends!
I got this book from my August Quibbler box, I started reading it that exact night then finished it the next afternoon. And I LOVED IT!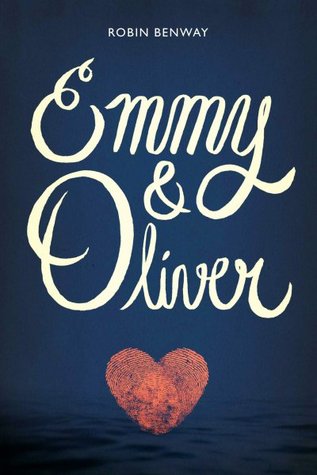 Title: Emmy & Oliver
Author: Robin Benway
Pages: Hardcover, 352 pages
Publication: June 23rd 2015 by HarperTeen
Genre: YA, Contemporary Romance
First of all, the cover is absolutely gorgeous.
Second of all, the content is just as wonderful. This book was from POV of a girl called Emmy. When Emmy was seven years old, her neighbor aka. best friend aka. Oliver was gone. He was taken kidnapped by his own father and that shook their entire small town. The neighbors became more protective over their children. Ten years later, there were finally news of Oliver, and he was coming back. Emmy wanted to be friends with Oliver again, but Oliver wasn't his 7 years old self anymore, neither was she.
I personally loved this book, its humor and everything. Emma was a great MC, she was hilarious, sarcastic, and honest. I find characters in this book very realistic, relatable and likeable. For example, Emmy's mom was just like my mom, the over-protectiveness, the check-in every waking hour and stuffs. Emmy's conversation with her mother never failed to crack me up.
She ignored my question. "Are you doing your homework?"

"No, I'm plotting a government takeover." I held up a highlighter. "Can't do it without the pink one, though. That's just foolish."
Besides Oliver, Emmy's friendship with her two the other best friends was just on point, it felt so natural and flowy and real. Their conversation showed how close they are, and it was amazing.
And to the romance, I'm so glad it wasn't instalove, Emmy and Oliver had to learned to build their friendship back up (and into more than that) because the person they've became is not the 7-year-old kids anymore.
I also loved that this book wasn't just a cute romantic book, it involved friendship and parents-daughtership lol. All the three elements were included and with the right amounts. I thought the plot was unique and amazing, it was very understandable for all the characters, and again, realistic. It was the kind of book that left you with all the happy feels and taught you to fight for what you really want.
Overall, this book is a journey of a simple girl called Emmy in a small town with her own simple love and life story but fascinating, it's a coming-of- age story about friendships, family, finding and fighting for what you want. Highly recommend, of course.
Thanks for reading!