At first, I thought I was gonna skip QOS review because I was done when WordPress kinda delete my post of the reveiw, who knows when I woke up the next day, I felt the need to fangirl. So here it is.
I read it! YES! And my life is complete, well not really, Sarah.J.Maas still have controls over the next two books. PLEASE DONT KILL THEM OFF. I WILL TRADE MY SOUL FOR THEIR LIFE TT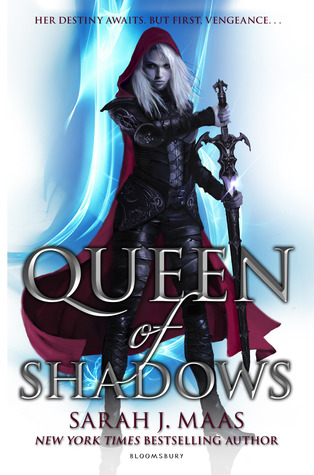 Title: Queen of Shadows
Author: Sarah.J.Maas
Pages: 645
Publication: September 1st 2015 by Bloomsbury UK
Genre: YA, Fantasy, Magic, Awesomeness, Sassyness
Source: Bought
As you know, or if you don't-you know it now, QOS is the fourth book in the Throne of Glass series by Sarah.J.Maas. If you haven't started on this series, what the heck are you even doing in your life? If you are reading this review for reassures if the books are worth a try, YES IT IS. It's the best thing in the whole wide world. For me.
WILL CONTAIN SPOILERS FOR THE FIRST THREE BOOKS! YOU HAVE BEEN WARNED!
To keep it short: Love the plot. Love the writing style. Love the characters! OTP!!!! #Rowaelin
To be more detailed:
After Celaena/Aelin was sent to Wendlyn and met the most amazing human creature ever walks on earth, Rowan, she came back to Rifthold for revenge, on both Arobynn and the King of Adarlan. Her journey, of rescuing Aedion, her revenge on both monsters were action-packed and amazing of course, and other awesome stuffs was just spectacular, there are even more surprises, magic, actions.
I love every single word. It was beautiful and entertaining. There was a quotsy effect to the writing, like I wanted to highlight so many stuffs! I love the humor in this book! However tense the situation was, there were still humors which were just perfect.
*bows to Sarah.J.Maas for creating Rowan, Aedion, Aelin, Dorian, Lysansra and all the awesome people*
Aelin is like my ultimate female character crush right now. She's so badass and I lurrrvvv her. I love her sass, but we also see her grow up, her murdering plans/combat skills were brilliant, also how she thought for the better of her people and friends, not making all the wrong choices anymore. I can really see her as a queen.
Did I mention Rowan? Did I mention Rowaelin? Seriously I totally agree that the next books in this series need to be NAs.
Dorian, my love. I CANT EVEN. I love Dorian even more than Rowan, from the beginning and ofc until the end.
Sarah tortured me with those parts that were from Dorian POV and the Valg prince inside him. WHY DID YOU DO THAT? Thanks the wyrd, he survived.
I hate Chaol for the 2/3 of the book, then he was okay again. I still don't get why he treated Aelin like that. Sorry to all Chaolena fans, for me I don't really like him from the beginning so… but it still bothered me since the conflict or sth came out of nowhere.
I like Lysandra a lot. Her badassness was perfect and her friendship with Aelin is just so awesome! I'm really glad there's a female companion for Aelin. I've heard that she appeared in the Assassin's Blade before this, so I recommend you read the Assassin's Blade before reading QOS. Even though I haven't myself lol. It's not just Lysandra part but I noticed many other references from TAB even though I've only read two out of the five novellas. So I think you should read the Assassin's Blade first!
In this book, we still have Manon chapters which I enjoyed even more than the last book. I found her stories and her character very interesting and I love that there were more depths/informations to her life and the people around her.
In Manon's side of story, there was an introduction of a new character, or not so new if you remember her from HOF, (which I didn't, I just knew lol) it was Elide Lochan who was the daughter of Lady Marion? (I'm not so sure what her name is lol) I just know that Lady Marion sacrificed herself told Aelin to run when Aelin's parents were murdered? as I remembered lol. So there were a few chapters from Elide point of view and I found them so boring. I totally skimmed through those chapters, and I don't really care about her throughout the story, tho I would love to see her reunion with Aelin.
And a brand new character, Nesryn Faliq, a city guard and Chaol's friend. I like Nesryn characteristic but I wasn't attached to her or anything. There were some scenes she was just there and didn't shine. There were also scenes I really like her attitude.
And for Aedion. I didn't fall for him the third book but now-he is my bae and you can't take him away from me. Aedion added so much more to the book, and I loved him!
Also I just want to add that the bromance, Chaol and Dorian, Aedion and Rowan, were so strong that I died.
---
And now on to the spoilery section. There are quiet a few things I want to talk/fangirl about.
Spoiler Alert if you haven't read QOS, please go read it and come back so we can discuss!
*
*
*
The first issue is of course the relationship/hatredship between our queen and our captain guard. Even though my ship is not Chaolena, it's abit confusing and I felt like I missed something. and everytime they meet and argue, it's just wrong?
The second issue is that Aelin and Dorian killed the king of Adarlan off a bit easily? like it was so long until they finally face him but the killing was so short and easy? I want him to fight back but they defeated him and he died a long painful death. Tho I was having a hard attack! THE KING KNEW ABOUT CELAENA AND AELIN! like it felt so dangerous! At that time this song was on and it has the tune of a eating heart which made me even more scared and excited! (it's sth by Of monsters and men, I'm not sure if the song is Empire or Crystals)
And when Arobynn put the ring on Aelin. I can't believe she was all prepared! I love Aelin so much!
Thats all the problems I have with this book except that last part, lets fangirl!
First, #Rowaelin #Rowaelin #Rowaelin.
I'm kinda stuck between wanting their friendship to remain forever and ever with no romance but then they match together so well! Their chemistry works well for both friendship and romantic relationship!
ME when Aelin nearly beheaded Dorian while rescuing Aedion:
I'm also very interested in Kaltain's appearance in this book, She defeated a Valg rince inside her by herself! She's just so awesome! I wish her Shadowfire didn't burn her up as well in the end so that we'll get to see more of her power in the next books!
On to the underground scene! I love history! And that Erawan! I can't believe it's actually Duke Perrington. Like I was wondering from the beginning that why did the king trust him so much since you know the king was a monster and didn't trust anyone, and he seemed so close with that Duke.
That action scene between Aelin and Manon tho. I was quiet surprised at how good Manon's fighting was because you know Aelin killed Baba Yellowlegs who is a Matron! And that was even before she was trained with our Fae prince! But it seemed like Aelin's and Manon's skills matched. :///
Also what is it you think about Manon's gold eyes that made the Valg prince inside Dorian so scared of her that Dorian could come out at that moment? And when Manon flew to Rifthold to tell Aelin about Dorian *screams because of happiness
And ship Manorian? is that their ship? I'm not aboard the ship yet but we'll see in the next book!
Talking about ships, Lysandra and Aedion…I can imagine!!!! SAIL SAIL SAIL. As for Nesryn and Chaol, I'm abit nonchalant about that? Idk they can do whatever.
Oh and this killing Arobynn and switching his will thing was awesome! I was grinning in satisfaction the whole time! Lysandra YASS!
The ending too! Aelin returned to Terrasen! like WTF? GIMME THE NEXT BOOK!
---
In conclusion, there were a few confusing WTF moments, but nevertheless considering the sassness and enjoyment level were 999.99, it made up for all the flaws! I can't help but love the characters and plot!
5/5 stars ofc!
Happy Reading,
Kimsiang XXX