hI PEEPS!
It's the first of November! How was your Halloween night?

My bookish side of October, I only read 6 books. UGHHH What's happening to me? #livingslump
Anyways let's get into the wrap up!
I finished I'll meet you there by Heather Demetrios on the second day of October. I loved it! I think it was fun, very enjoyable yet heart wrenching. I love the inside jokes, the simplicity yet uniqueness of everything in this.
I did a review of it here. 😀
After that I picked up A work in Progress by Connor Franta.
This is the first memoir I've ever read and I'm not disappointed. well, a bit. I don't know I think it just lacks something but it was still very amazing. I received this from a vampire friend of mine as a birthday present on a Monday morning, and I finished this book that night as well. First of all, I really like Connor Franta, I think he's very talented, adorable and inspiring. His videos are edited very very well and they are very inspiring. Okay so I've been fangirling all day but I haven't told you who he is lol but you must have known him right? Connor Franta is a YouTube sensation, he makes cool, entertaining, inspiring videos about his life, his experiences and stuffs. His YouTube here. In this book, we get to know about his journey to his career, to who he is now, his struggling on his sexuality and more. I find this book very inspiring (this is the 5th time I've used this term in this paragraph alone), honest, innocent, and I also got to know him more as well as know myself more. The 212 pages taught me many incredible things. It helps with my self-doubting, it boosts my confidence and make me a little bit more comfortable in my own skin, that other people's remarks don't matter and that we are flawed but we are beautiful in our own way. Did I mention the beautiful photographs? The photographs make this memoir very original and special. ❤ And the lyrics or poems or whatever it is is so beautiful ❤
Some favourite quotes:
"It's okay. It may not seem like it right now, but you are going to be fine. I know it's scary, but don't be afraid. You are who you are, and you should love that person, and I don't want anyone to have to go through 22 years of their life afraid to accept that."
"Girls can be athletic. Guys can have feelings. Girls can be smart. Guys can be creative. And vice versa. Gender is specific only to your reproductive organs (and sometimes not even to those), not your interest, likes, dislikes, goals, and ambitions."
"Question: Why does life have to feel like such a struggle at times? Answer: Because without the struggle, the triumphs wouldn't taste as sweet."
"Who are you? Answer; you are who you are in this given moment. Label-less. Limitless. Remember that from this day forward."
This is the only face and body you're ever going to get, so be comfortable and happy in it. Own it. Own every aspect of who you are and present it to the world with the utmost pride."
"I had dreams. And I had to pursue them; otherwise my soul would have shriveled. The hardest part was allowing myself to want something other than what was socially acceptable, telling myself to go after it, then actually doing it."
"That's the downside of growing up. There's a lot of pretending involved. We frequently act like someone other than who we really are because we don't know or aren't comfortable with our true selves."
(So i think I went a little bit crazy over the fav quotes lol but i can't choose)
Overall, 5 stars.
Another self discovery, coming of age novel I read was The perks of being a wallflower by Stephen Chbosky.
Earlier this year, I picked this book up and put it down because I felt like it just wasn't for me and the writing style too was not my favorite. But this time round, after I recently read some reviews about this book that it's a coming of age novel that is inspiring and stuffs and I've just finished AWIP by Connor Franta, I wanted to read more books that might motivate me to work harder for my dreams, to show me everything is possible, to kick the doubt I'm having out of my way.
This book was about Charlie, a wallflower, trying to find himself and surviving high school life. I think this book was amazing, it was relatable in many ways as I'm a wallflower myself. The plot twist in the end caught me off guard and the ending was awesome too.
Again, the writing style wasn't for me so it was 4.5 stars for this.
Fav quotes:
"Things change. And friends leave. Life doesn't stop for anybody."
"And in that moment, I swear we were infinite."
"I would die for you. But I won't live for you."
"So, I guess we are who we are for alot of reasons. And maybe we'll never know most of them. But even if we don't have the power to choose where we come from, we can still choose where we go from there. We can still do things. And we can try to feel okay about them."
"It's strange because sometimes, I read a book, and I think I am the people in the book."
"I just want you to know that you're very special… and the only reason I'm telling you is that I don't know if anyone else ever has."
I told you this month was about kicking the self-doubt and the finding yourself and diversity and all of that. So this one is More happy than Not by Adam Silvera.
I loved the first half of this book, I was sad and happy and rooting for certain people, entering the procedure and stuffs which is the second half was a bit off for me, it was confusing, nevertheless I still enjoyed this book immensely, oh and it was so sad.
In the months after his father's suicide, it's been tough for 16-year-old Aaron Soto to find happiness again–but he's still gunning for it. With the support of his girlfriend Genevieve and his overworked mom, he's slowly remembering what that might feel like. But grief and the smile-shaped scar on his wrist prevent him from forgetting completely.
When Genevieve leaves for a couple of weeks, Aaron spends all his time hanging out with this new guy, Thomas. Aaron's crew notices, and they're not exactly thrilled. But Aaron can't deny the happiness Thomas brings or how Thomas makes him feel safe from himself, despite the tensions their friendship is stirring with his girlfriend and friends. Since Aaron can't stay away from Thomas or turn off his newfound feelings for him, he considers turning to the Leteo Institute's revolutionary memory-alteration procedure to straighten himself out, even if it means forgetting who he truly is.
Even tho I know this book was a LGBTQ+ novel, I was rooting for Gen and Aaron so much at first. But then there is Thomas, I like Thomas but I don't like Aaron and Thomas. I hate Collin. End.
I think the writing style was very unique and easy to read. I love that there are kinda different themes in different sections of the book, I love the uniqueness. Aaron's journey was heart-wrenching, very emotional, honest, surprising, and real. The ending was so sad tho 😦
Overall, 4.25 stars.
Fav quotes:
"I've become this happiness scavenger who picks away at the ugliness of the world, because if there's happiness tucked away in my tragedies, I'll find it no matter what. If the blind can find joy in music, and the deaf can discover it with colors, I will do my best to always find the sun in the darkness because my life isn't one sad ending–it's a series of endless happy beginnings."
"From the shapes cast by the green paper lantern, you would never know that there were two boys sitting closely to one another trying to find themselves. You would only see shadows hugging, indiscriminate."
"I realize I'm crying a little, too. I remember. Sometimes pain is so unmanageable that the idea of spending another day with it seems impossible. Other times pain acts as a compass to help you through the messier tunnels of growing up. But pain can only help you find happiness if you remember it."
"Memories: some can be sucker punching, others carry you forward; some stay with you forever, others you forget on your own. You can't really know which ones you'll survive if you don't stay on the battlefield, bad times shooting at you like bullets. But if you're lucky, you'll have plenty of good times to shield you."
"The boy with no direction taught me something unforgettable: happiness comes again if you let it."
Another self discovery from one of favorite authors, On the Fence by Kasie West: I've read three books by Kasie and I haven't been disappointed tho this is prolly my least favorite, it's still very cute and fun to read.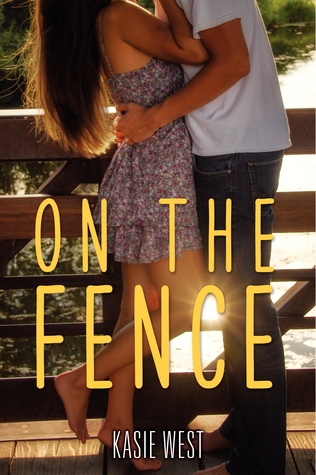 Charlotte aka. Charlie is a tomboy, she spent her whole life surrounded with boys, her brothers, her dad, her neighbor, her soccer team and she likes that. But when she had to work in a boutique for money, her world became more girly. She was complimented on her sense of style and was checked out by guys, she realized she likes that attention. Throughout all this crazy stuffs happening in her life, she has been chatting and sharing secrets with her neighbor who she considered as one of her brother. Charlie then stuck on the fence between being the sporty girl and the girly girl lol wth.
This was my least favorite out of all Kasie's books is because it's a bit boring. But the storylines, writing styles and characters were amazing as always well I didn't feel very strongly about Braden. I think he was decent?
Well, overall, 4 stars.
And the last book I read this month was Animal Farm which was a school required reading.
I gave it 3 stars, it was decent but I have a pretty hard time finishing the 80 pages because it was boring ==
---
And that was my October Wrap-up! How was your October? If you did a wrapup post too, feel free to link it below, I'll definitely check it out 🙂
Thanks for reading, this was pretty long 😀
Love,