Guys, my phone is broken. It drowned. And that is why I didn't know about the events in Paris until a few hours ago. #pray
---
Anw, I'm back with a book review or more like ranting on how it messed with my emotions.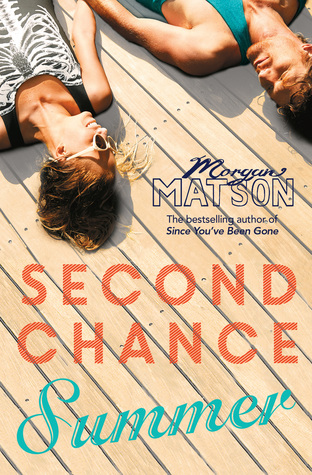 Up there, is the culprit. The one that broke my heart.
Even though, Second Chance Summer is my least favourite out of all Morgan MAtson's books, this one really hit me hard, right in the tears department. I kinda knew it would happen in the end but I still insisted on reading that last part in public anyway, and the staffs there kept looking at me. It was so hard not to cry, I kept thinking 'no it's not happening. No I don't want to read this anymore.'
I should explain right?
So this book centered around a family of five who doesn't have that close family relationship or much family bonding time. This summer, they discovered that their father has (back cancer) and he only has 3-4 months left. They decided to spend their summer at their summer home which they have stopped going since the last five summers because everybody has been super busy, but for our MC, Taylor, she was glad she didn't have to go back (and that's for good) but now…
Taylor likes to runaway when things get hard, but going back she has to face her first love and her ex-best friend, both she left five summers ago. And this summer, she got another chance to fix what she has broken. It's second chance summer.
"But one thing that I was learning about what happened when you stuck around—it usually seemed that other people were willing to stick by you as well."
I find this book a bit boring and unlike other Matson's books, it lacks humor. But it wasn't bad, not at all. It still gives me the feeling that only Matson's books can give me. (wtf did I just wrote?) It's raw and realistic and hit you where it hurts the most.
The thing that got me all teary-eyed (believe me I don't cry because of books that often, it happens once in a while every blue moon) was the plot that her father was dying and falling sicker everyday during that summer. And that ending.
It's just lately I've been thinking a lot about that issue that no one is immortal and that sucks because I need my parents to be here forever. I sometimes think I won't survive when they are gone, nostalgia will bury me deep in the ground. I will be thinking about all the things I didn't do or say when they are here and what things used to be and how I take them for granted and how I will miss the coming back home with dad in the garage and mom in the kitchen. I can't take that. I don't understand how people survive memories. I've always been grateful for them and everything that I've done even though my actions might act otherwise.
"Daddy," I whispered, feeling my own breath hitch in my throat. "I love you."
Just when I was sure he was asleep, the one corner of his mouth lifted in a smile. "I knew that," he murmured. "Always knew that."
Second Chance Summer proved all that to me. It made me even more wide awake about that. Taylor didn't even know her father before this summer, and this summer is only when she gets to talk to her father about his life and what he has been through, his music taste, what he likes and what he hates.
The last part was so saddddddd ughhhhh I can't get over this.
To conclude this, I definitely recommend this book. It was an emotional, heart-wrenching ride for me. It was boring at some part but overall I love it.
It's a 4/5 stars for me.
---
Here are some quotes related to this topic:
Love your parents. We are so busy growing up ,we often forget they are also growing old.