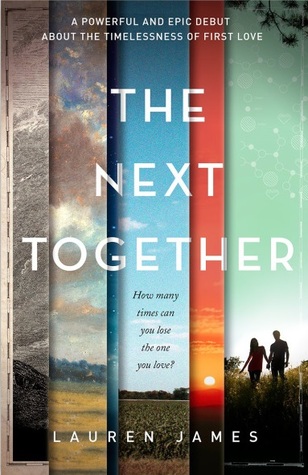 Title: The Next Together
Author: Lauren James
Pages: 356
Publication: September 3rd 2015 by Walker
Genre: Young Adult, Sci-fi, Mystery, Romance, Contemporary
I won this book from a giveaway hosted by NerdyTalksBookBlog over on Instagram. Ever since I heard of this book and read the synopsis, I was so sure I'm going to love this, like this is exactly my cup of tea.
How many times can you lose the person you love?

Katherine and Matthew are destined to be born again and again, century after century. Each time, their presence changes history for the better, and each time, they fall hopelessly in love, only to be tragically separated.

Spanning the Crimean War, the Siege of Carlisle and the near-future of 2019 and 2039 they find themselves sacrificing their lives to save the world. But why do they keep coming back? What else must they achieve before they can be left to live and love in peace?

Maybe the next together will be different…
I thought it was going to be a cheesy romantic emotional read, turned out it's more of a sci-fi mysterious read and that's not exactly my cup of tea, not to mention a bit boring.
The Next Together follows Katy and Mathew and their love story in four different timelines as mentioned above. We have 1700s when Katy is Lady Kady and Mathew is her servant, this one the most boring for me. Then we have 1800s when Katy disguised herself as a boy and worked for Matt, there weren't much written about this timeline but I still skipped some. In 2019, they were already married and in this timeline we get to see how they communicated via notes and emails which were meant to be funny but it made me roll my eyes because it's sometimes overdone. The last one is 2039 which was my favorite until the instal love happened.
This book was told from third person, and it wasn't all texts as I mentioned. There were files, notes, maps, emails and such attached too. At the end of each timelines, before we get to the other ones, there were these error code things that intrigued me the most in this whole book. It's like someone is behind all this, someone who arranged for them to meet. As I mentioned, the scifi thing is not my type but I do like this concept, though in my opinion I really prefer it to be like fate or STH, like they ARE destined to be together.
Anyways, I really like that this book was a combination of all genres that exist except erotica maybe. There were mystery, romance, sci-fi, dystopia, war and more. I mean it could have gone so much worse.
I did find it a bit boring still and also just tired with all the tropes such as insta-love, overdone comedy scenes, and such which is so annoying. To be honest, I skipped a few scenes even because this book kinda slowed me down and I just wanted it to end so…-.-
And the ending! I didn't get it. Questions not answered and just, i don't get it at all.
I heard this is going to be a series or duology which I don't think I'm going to pick up, I'm not that interested :////
I wouldn't say I recommend this book, it was not bad, just not that good I guess. But if you are intrigued and want to give it a try, tell me what you think when you finished it. I hope you like it better than I did. 😀
I gave this book three stars.
And that's it for today! I hope you enjoy reading this! Thanks for reading 😀
Happy Reading,
Kimsiang @TheSpinesBreaker