Greetings, friends!
Like everybody else, I know about Sophie Kinsella and the shopaholic series, tho I've never read them but I heard they are amazing and hilarious. (Okay, I don't know why I said that, I was just trying to prove that I'm not from a cave.) I've also heard amazing reviews about this one, so I was very excited to pick it up and it didn't disappoint! 🙂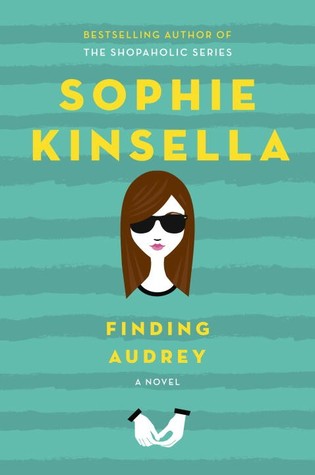 Title: Finding Audrey
Author: Sophie Kinsella
Pages: 286 pages
Publication: June 9th 2015 by Delacorte Books for Young Readers
Genre: YA, Contemporary
---
Finding Audrey follows Audrey, a 14-year-old teenager, who has a severe case of anxiety after being bullied that she can't even go out or have a social life and she needs to wear sunglasses even in her house to avoid eye contacts.
"It won't be forever. You'll be in the dark for as long as it takes and then you'll come out."
As she is only 14, Audrey's voice did sound a bit young tho it wasn't much of a problem for me.
The story focused a lot on Audrey's family as Audrey was always home. Her mom and dad were the stereotyped mom that was obsessed and believed everything the daily mail said and did whatever it takes for her son to stop playing video games. Her dad was the type that always agree with the mom even when he didn't know what it was. I mean it was pretty cliche but it was very entertaining. And Audrey's brother, Frank, a video game addict who wanted to play video as a career. Frank had his video game friends home often to practice for a video game contest which you could win a lot of money. One of Frank's friends, Linus, caught Audrey's attention. And a relationship was developed but there was Audrey's anxiety issue in the way and blah blah.
"Although, as Leonardo da Vinci said: "Where there is shouting, there is no true knowledge,"
Like I mentioned I really liked the family relationship in here, even though it wasn't that realistic, I liked that it made me laugh. As for the romantic relationship between Audrey and Linus, I think it was very cute and all, with the note-passing and Linus being so sweet and just understood Audrey. However, it was a bit of an insta-lovey which I didn't really like. I mean one moment Audrey was still struggling with anxiety then she kinda liked Linus then they were a couple.
"No!" Linus sounds really shocked. Shocked, embarrassed, discomfited. Kind of mortified. Like he can't believe I would say that. (I'm getting all this from one syllable, you understand.)"
Another issue I had with the book was that we weren't given a background story of Audrey's anxiety. I want to know what happened to Audrey in the first place, what triggered her social anxiety and more.
"Sometimes I hope I'm building up a stockpile of missing laughs, and when I've recovered, they'll all come exploding out in one gigantic fit that lasts twenty-four hours."
In Finding Audrey, Sophie Kinsella dealed with social anxiety in a light funny way but with respect. I find myself relate a lot to Audrey's issue especially the eye contact one as I'm pretty shy lol.
Overall, I gave this book a 4/5 stars.
I would recommend this book to you if you're looking for a light fluffy comedy read. I have a friend who refuses to read anything related to depression or anxiety or just anything that is very emotional because, she said, she feels kinda suffocating with all those stuffs. So if you're like my friend, I definitely recommend this book, because it gives you glimpses about what it's like to suffer from anxiety too.