Bonjour, compadres!
(Okay, I don't know French.)
If you know me at all, you'd know that I'm a hardcore Throne of Glass fan (did I just say hardcore? K.), I really like the series, it's one of my favorites of all time, and Sarah.J.Maas is also one of favorite authors. So now you're wondering why I'm just reading ACOTAR right now? Becauseeee financial crisis and then I kept putting it off and off, until recently I got hold of the book and read it! In a few words, I loved it, though I had a few issues and I still prefer the Throne of Glass series.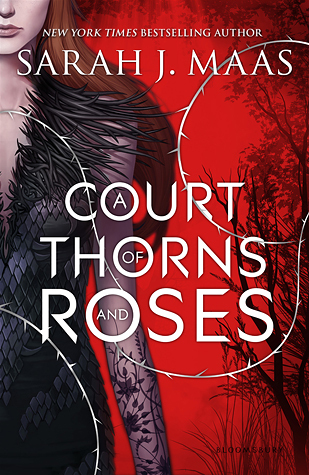 Title: A Court of Thorns and Roses
Author: Sarah.J.Maas
Pages: 416
Publication: May 5th 2015 by Bloomsbury Children's
Genre: YA, Fantasy, Magic, (NA, I'm not sure ://)
---
When nineteen-year-old huntress Feyre kills a Fae in the woods, the Fae's friend arrives at her house to demand retribution for it and dragged her to a treacherous magical land she only knows about from legends.
As she dwells on his estate, her feelings for Tamlin transform from icy hostility into a fiery passion that burns through every lie and warning she's been told about the beautiful, dangerous world of the Fae. But an ancient, wicked shadow grows over the faerie lands, and Feyre must find a way to stop it… or doom Tamlin—and his world—forever.
"I was as unburdened as a piece of dandelion fluff, and he was the wind that stirred me about the world."
Characters
Feyre: I really like Feyre as a character and reading from her perspective was fun. I like that she has her own mind, that she is strong and passionate (and she paints! I paint too. Okay, that was awkward.) But Feyre is hot-headed woman and she tried multiple times to get herself killed (not intentionally, just too passionate). Feyre is kinda the quirky, kept to herself characters, the kind that has a lot in her mind but only says so much, in other words, she is so like me that's why I love her so much.
"You look . . . better than before."
Was that a compliment? I could have sworn Lucien gave Tamlin an encouraging nod.
"And you hair is . . . clean."
Tamlin: As for our male protagonist, the supposed hot sexy swoon-worthy high fae. I love Tamlin, don't get me wrong, I love that he cares, he tries, and he's just so good and perfect. Tamlin, whom I expected to be a cold-hearted High-Fae turned out to be very kind and deary. Did I mention I'm a sucker for romantic hot guys? Tho I feel like I don't know much about Tamlin's personality, and his relationship with Feyre was not enough, I don't know I just want them to have more time together, do more things together, more closure because for now I am not aboard the ship because i can't see them together yet!
Lucien: who is also a Fae and he resides with Tamlin too. I really like Lucien. I feel like he's a mysterious character even though we were given a lot of back stories about him, I just feel like I can't predict him yet. Sometimes he's cool, sometimes he actually cares. Sometimes I think he's hot and young, other times he sounds like my dad.
Rhysand: I love Rhysand. (I'm climbing the stairs to board the ship. I also sensed a love triangle. Is it Feysand? I'm completely on board.) I was never a fan of bad boys, but this time….. I don't know why I like Rhysand so much even when he showed up only in the end. I hate the thing he did to Feyre, you know, when they went to the parties, but I love him when he's like behind-the-scene Rhysand. Anyway, Rhysand is a High-Fae too, he came from another court, the night court, while Tamlin and Lucien were from the spring court.
"Rhysand stared at me for long enough that I faced him.
"Be glad of your human heart, Feyre. Pity those who don't feel anything at all."
Amarantha, the villian. I love to hate her! I mean she's evil and her evilness makes sense so I love to hate her LOLOL. Amarantha basically controls the whole Fae kingdom, and she's obviously not a good ruler therefore there's war.
Then we have the world building, I loved it. I loved the magical creatures Sarah created, they were new and fascinating. I loved the world, that they are divided into courts, the Faeries. The world is unique and rich and big and just there's a lot more to explore. I can't wait.
The writing style is of course, perfection and captivating. Sarah's writing is always very entertaining yet poetic, like very sentimental but easy to read at the same time. ❤ and sometimes she's just giving you life lessons, your mom's style.
"Don't feel bad for one moment about doing what brings you joy."
As for the plot as a whole, I loved it too. I felt it was slow at times, Feyre was always in the house, but because of the fascinating world, there was always fascinating things that caught me in the story. I also really liked the twist at the end, I didn't at all expect the story to go in that direction, and it was a very interesting direction of course. I only had a problem with the main relationship, Feyre and Tamlin, I feel like it wasn't so exciting and they need to be together more. Other than that, it was amazing.
"Because I wouldn't want to die alone, I said,and my voice wobbled as I looked at Tamlin again,forcing myself to meet his stare.Because I'd want someone to hold my hand until the end, and awhile after that.That's something everyone deserves, human or faerie."
A Court of Thorns and Roses by Sarah. J.Maas is a retelling of the classic fairytale, Beauty and the Beast, with a twist with Faes. The story and the world were rich and you'll be fascinated from the first page to the last to the characters and you'll love the steamy romances!
"I threw myself into that fire, threw myself into it, into him, and let myself burn."
Overall, I gave ACOTAR 4.5/5 stars.
I honestly have no idea what the sequel is going to be about, I just know that I can't wait!
---
Happy Reading,
Kimsiang @ STORIES&PAINTBRUSHES