Hello, bibliophiles!
I have a book review here today of, as the title suggest, Simon VS. the Homo Sapiens Agenda by Becky Albertalli, one of my favorite contemporary romances this year.
---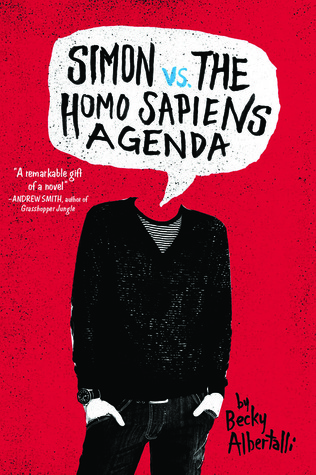 Title: Simon Vs. the Homo Sapiens Agenda
Publication:

 April 7th 2015 by Balzer + Bray
Genre: YA, Contemporary romance, LGBTQ+
---
"White shouldn't be the default any more than straight should be the default. There shouldn't even be a default."
Sixteen-year-old and not-so-openly gay Simon Spier was being blackmailed when he forgot to log out out of his email on his school library's computer. Simon is not so afraid about everyone knowing he's gay but what worries him most is what that would cause to his connection with the mysteriously cute boy he's been emailing with: Blue.
"He talked about the ocean between people. And how the whole point of everything is to find a shore worth swimming to."
I loved this book. I loved Simon. First of all, I immediately connected with Simon and clicked with the writing style. Becky writes like how I think and talk, really. She made it so easy for me to relate to Simon. Moreover, Simon's personality was just so similar to my best friend and that made Simon very real to me, it was like my best friend was telling me his story. The writing style was funny and witty, I loved the casual writing style of Becky that made the book so easy to read and I flew through it in a day! A+ for the writing style.
The characters were all so cute. We had Simon and his group of friends, their silliness and their dramas. We went through the roller coaster, ups and downs of their friendship, I felt like I was also in their squad. Honestly, it was like this book was written about me or someone close to me, as Simon and I are the same age, I could relate to a lot of the things that he went through. Also, Simon's family was so cute and quirky at times. There are of course times that are abit problematic and chaotic in his house, but, overall, they were very supportive and just awesome!
"It feels like we're the last survivors of a zombie apocalypse. Wonder Woman and a gay dementor. It doesn't bode well for the survival of the species."
And then, of course, Blue, who Simon had been emailing secretly with for a while. Blue and Simon go to the same school but they don't know each other's real identity. Again, relatable. Said best friend at the top and I are pen pal for a long while before we got to meet too!
"The closest thing I've ever had to a journal is probably you."
However, the only problem I have with the book was that I wasn't exactly convinced of Simon and Blue's deep connection via emailing. It actually came as a surprise for me when the emails got more and more flirty out of nowhere but it was still good as it caused all the jittery butterflies exploded inside of me.
On top of all that, there was the quest of guessing who Blue was. I didn't guess he was who he was at all! Though I am glad it was him, they were perfect together. I mean the revealing part got me rolling all over my bed for minutes to calm myself down. I just can'tttttttt. They are so cute together omg.
Overall, I gave this book a 4.5/5 star.
It was honestly the cutest LGBTQ book I've ever read yet. I can't find a reason why anyone wouldn't love Simon vs. the Homo Sapiens Agenda.
Would I recommend it? Heck yes!
"People really are like house with vast rooms and tiny windows. And maybe it's a good thing, the way we never stop surprising each other."
---
Thank you so much for reading! What did you think of this book? Did you love it? I would love to know your feelings and thoughts!
Happy Reading (Signing off),
Kimsiang @ Stories + Brushes